A crisp March morning in the last quarter of the nineteenth century, Thomas Francis Nolan emerges from his cottage on Ballon Hill to begin his day's work cutting and dressing granite ashlar stones for a local authority bridge at Tullow, Co. Carlow. The stones are cut and dressed on site, somewhere down the fields perhaps, Rathrush or Moanmore, then transported by ass and cart to their eventual destination. No pneumatic air drills or diamond saws to assist the mason, those times were just hard work and resolve with relatively primitive tools, metal punches, chisels and wedges to split and dress the stone, which Thomas and later his son John and grandsons Patsy, John (Noel), Tommy and Jimmy later, had to dress at the fire before the day's work began cutting the stone.
Thomas Nolan (1847-1932) was the first known member of the Nolan family to practise the trade in Ballon. He was involved in producing monuments and general masonry for the building trade and farm work i.e. granite rollers. Thomas Nolan was born on Ballon Hill in 1847 and lived afterwards in Connaberry where he practised his trade.
Monumental and stonemasonry
Monumental and stonemasonry is one of the oldest trades in Ireland and indeed the world, dating back to pre-Christian times in Ireland and before the great pyramids of Egypt, the massive Inca cities of South America, the famous high crosses of Kells, Ahenny and Clonmacnoise. It has been practised in Ballon since the mid 1800s by the Nolan family and others in Co. Carlow. A county that is rich in natural deposits of granite, limestone, quartz and sandstone. Beautiful examples of stonework in Co. Carlow can be seen at the Garda barracks in Ballon, Ballykealy House which was designed by William Cobden who also designed St. Patrick's College and Carlow Cathedral to mention a few. The stone work for these would have been sourced locally, mostly Carlow limestone and granite bedrock, which would have been brought by horse and cart to the site and dressed by the stonemason to create the final construction.
His son Johnny Nolan (1885-1971) was next to take up the noble profession of cleaving, he was a quiet man, an eccentric and colourful character. He moved into a cottage on Ballon Hill near the existing church. About 1920 he married Julia Murphy of Myshall. They were married a short time when one evening Johnny, having transacted a barter deal with a person for whom he had done some stonework, returned home with a bag of herrings. He emptied the contents of the bag onto the floor of the kitchen to show his slightly bemused wife what was therein. The contents were dispersed in every direction when Julia's father sitting in the corner smoking his pipe and surrounded by a deluge of fish looked up and said "You'll be an independent woman with that man yet!"
Johnny and Julia Nolan later moved down to Main Street Ballon which is now Lucy Nolan and Sons. It was a single storey cottage at the time and work continued from there. Johnny and Julia Nolan had seven children, three girls and four boys; Mary (May), Kathleen (Kit), Sheila (Bunty), Tommy, Patsy, John (Noel) and Jimmy. Jimmy and May went to live in Co. Kildare, Kit in Limerick and Sheila emigrated to America. Tommy, Patsy Noel and Jimmy worked as young men with their father at Ballon.
The work was tough and energy consuming and one would have to be well fortified before doing a day's cleaving. Johnny in particular had a healthy appetite. Although slight he was a wiry man and able to demolish a feed at any given time. Another task that Nolans performed for the farming community was splitting in situ the stones on the land which were then removed by horse and cart. The land was later cleaned and ploughed. The stones were often used afterwards in the making of monuments or building stone by the cleaver. On one such excursion Johnny and co. were commissioned to cut stones at Gorey, Co. Wexford for a land clearing exercise by the local farmer. The duration of this particular job was 4 to 5 days and given that a trip to Gorey in those days would be the equivalent to a modern day trip to the Balkans, accommodation was sought by the stone cutting team on their arrival. The job proceeded according to schedule during which time the landlady never ceased to be amazed by the amount of food the main stone cutter was able to consume after his hard day's labour. When the job was concluded, the bill was duly presented and upon receipt of payment she remarked "there's one thing sure and certain, there's no money to be made from Jack Nolan o' Ballon."
Time passed on and soon Tommy Nolan emigrated to America where he went into partnership with another man in the bar business, Larry Nangle of Kilbride. Patsy went to England with his wife Teresa in 1952 and stayed for eleven years. John (Noel) and Jimmy stayed at home with Johnny working the same way as had been done for countless generations, producing hand dressed items such as the Rathoe gate piers, which were cut for the princely sum of £40 and took 6 months to finish. They produced countless granite monuments and granite field rollers which Johnny had a habit of leaving high in the middle and when remarked by the farmer Johnny would reply "easy to turn on the headland though"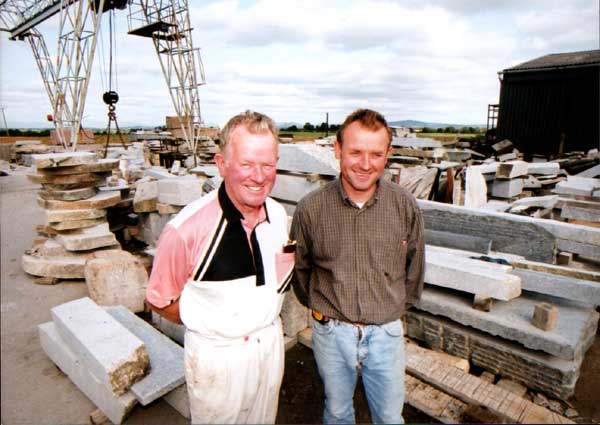 Patsy Nolan returned home from England in 1963 and lived in Cappagh where he also set up working for himself in the monumental and stone trade while Johnny, Noel and Jimmy worked at Main Street, Ballon. Although they worked separately, they still did some jobs together and by this time technology in Ireland was starting to change the way the trade was carried out, there were saws for cutting, compressed air hammers for chisel work and by the early seventies even an Italian incimar lettering machine, for inscribing headstones, which Patsy Nolan purchased and operated at his works at Cappagh from where he lettered headstones for trade all over the country.
Jimmy Nolan married and moved to Wexford, Tommy Nolan returned from America and settled in Wexford Town where they both set up as Nolan's Monumentals.
Johnny and sons had a peculiar pre-occupation from the original trade of stone cutting which was the netting of the lapwing and golden plover birds as a supplementary source of income and perhaps a route of effecting an escape from the toils of the real and economically grueling world of the 1930s, 40s, 50s and 60s. This was done by an unorthodox apparatus known as the "plover net" which was constructed of spring boards, netting shoes and roping to a plan which was unknown to most people at the time, only those so disposed to the activity. This exercise took place during the winter months when the plovers migrated from the more northerly regions to Ireland to feed on the open fields and flew in flocks of 10 to 100 birds. The trick was to get the birds to land on the net pre-set on the ground below. The birds were whistled down with a special whistle and a decoy made by Johnny or Patsy from bone and when the unsuspecting creatures were just about to touch down the net was sprung by pulling a rope which was connected to the net and spring boards and the unfortunate birds were trapped, perhaps up to a hundred could be caught in one entrapment. The birds were a delicacy at the time and were sold to houses of the gentry and restaurants of the county. They were sold in Dublin for the price 2/6.
Johnny Nolan died in 1971 and his son John (Noel) carried on the business at Main Street Ballon where he later married his wife Lucy, they continued the business. John (Noel) died in 1988. Today the business trades as Lucy Nolan and Sons at Main Street Ballon.
Patsy Nolan and his wife Teresa moved their business to the old hall on Ballon Hill in 1975 and moved from there to the site of the Midland Dairy Ballykealey in 1980 where he founded Carlow Stone Centre Ltd. with a showroom and premises at Kennedy Street Carlow, formerly Walshes Monumental Works, Castlehill, Carlow.
Today Carlow Stone Centre Ltd at Ballykealy Ballon and Kennedy Street, Carlow are run by the Nolan family. Declan Nolan, his wife Pauline, sister Anita Dowling and brothers John and Dermot represent a direct line of four generations of stone masons in Ballon producing all types of stone products from the traditional head stones to architectural special pieces, carved fireplaces in marble, limestone and granite kitchen work tops to commercial stone cladding for modern buildings. They work from largely indigenous Carlow limestone, granite and imported marble and granites from all over the world with emphasis on home produced stone encouraging local employment and craft. In the modern trading environment stone has become a commodity obtainable from the cheaper economies by use of the internet and modern intercontinental transportation and logistics. With the emergence of the upturn in the Irish economy especially since the 90's the stone market has grown considerably with new markets for the large amount of finished stone products from the low cost economies such as China and India. Activity has intensified and expanded and with "a rising tide comes up all boats," the demand for the Irish home produced stone has increased also.
"That God may save everyone."
Irish granite from Carlow and limestone from Leighlin Quarries is enjoying unprecedented sales at home and abroad. The trick is to find the niche that suits your specific operation and capacity.
As Johnny Nolan used to say when observing the peculiarities of the world,
"That God may save everyone."